PV installations. PV panels. Solar water heating systems = Solar photovoltaic panels + solar heating energy.   RHPP and renewable heating premium payment.
Solar panels survey choices
Is my home suitable for solar panels from Solartwin?
Solar survey. Is my roof suitable for Solartwin PV solar panels for electricity?
Or for solar panels for water heating? Considering whether to buy solar panels? To rapidly check whether we can install a Solartwin solar panel at the standard price, choose one of  three solar heating panel survey options (all with fixed price  installation quotes including VAT)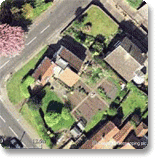 Ariel photography
Want a solar panel? Just phone us now and say you are interested in having a PV panel installation or a PV pumped Solartwin solar panel installed to collect solar energy.  0848 1300 137 this is your simplest, quickest, and best value option to buy solar thermal. Our free instant, solar panel eco-survey give you a  10% discount. 99% of homes are fine for our eco-survey option – just a few easy questions.
What happens during a solar panel eco-survey? We usually take a quick look at your roof, using an aerial photograph, if one is available. We also ask some simple questions about your home. You normally get a fixed price solar panel quotation immediately, reconfirmed in writing / by email. No-one visits or disturbs your privacy. Meet a solartwin solar panel user. We can normally offer a Solartwin solar panel user contact too. So you can speak to someone who has been using solar panels of our award winning zero carbon design. We also calculate roughly how much solar energy you can expect to gain.

Solar survey extra information. Occasionally, for solar thermal quotes for complex roofs / plumbing please post or email (JPEG or GIF files to  info@generationfit.co.uk) at least 6 pictures:
Long distance outside shots of suitable roof(s) for solar panels, including the ground needed to place scaffolding or ladders on.
Your hot water cylinder,  usually in the airing cupboard, ideally showing the pipes around it.
Your cold water tank (usually in the attic), showing the pipes going in and out of it.

A

wide shot in the loft of underneath where the solar panel might fit so we can see the rafters.

A

shot of the loft hatch and ladder, if any. If not, a shot of where a new hatch needs to be.

Any other photographs

you think may be relevant, such as alternative positions for the panel.
Your pre-solar photos can really help. Please use a flash for inside shots. Architects' plans, sketches or drawings are helpful too. We will phone you and give you a decision on suitability for your solar heating installation. Plus a fixed price written quotation.
Why do we give 10% off solar thermal quotes? At Solartwin we like to incentivise environmental choices. So if you choose an eco-survey or photo-survey, for your solar panel project, and if we don't need to visit your home as a result, as a bonus, we'll discount the price of your installed solar water heating system by 10%. This reflects the travel-related environmental impact of one journey to your home – which you can eliminate! To date, our solar panel customers have eliminated over a million miles of travel this way! You know your home better than most people! Compared to conventional solar, Solartwin starts cuttting carbon emissions even before you buy solar.
Back to the top  
Solar panels onsite survey. If an eco-survey for Solartwin solar panels is really not practical (but it nearly always is) and if you choose to forego the 10% discount for solar thermal panels, please ask a Solartwin solar installer or solar surveyor to come and survey your home for a solar installation.
Back to the top