Solar water heating systems = Solar panels + solar energy. Solar thermal: solar power & solar hot water. RHPP and renewable heating premium payment
Solar Energy Panels plumbing summary
'How to install solar heating panels – almost as easy to plumb in as a washing machine'
Solar plumbing diagrams showing how Solartwin's freeze tolerant solar panels are so easy to install…
We invite you to the three solar panel plumbing diagrams which follow. The first shows a conventional low pressure hot water system – with no solar panels. The next two diagrams show very different solar installations. The conventional solar water heating installation is complicated! By contrast, the last solar installation diagram simply shows how Solartwin solar panels requires very little extra plumbing, which takes up very little space in the house and is quick and easy to install.
1. Conventional low pressure hot water system with no solar
2. Conventional solar thermal system with pre-heat & antifreeze
This is one of several "traditional solar panels" plumbing options used in conventional (indirect) solar water heating systems.

It consumes a lot of space, takes longer to install and is expensive. It also carries a risk of Legionella growth in the solar cylinder in winter.
3. The Solartwin solar panel system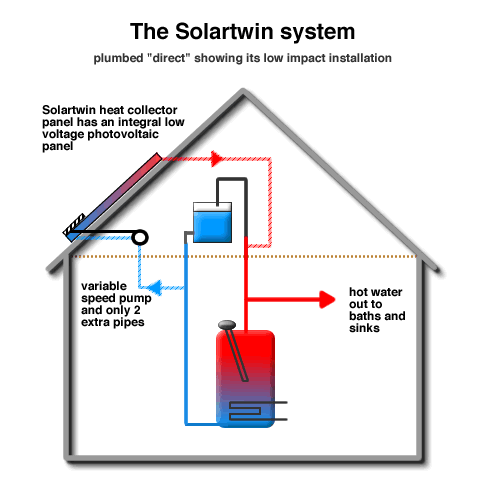 For a working demonstration of the Solartwin solar panels ystem click the image above. Please note: Your browser must have the latest java plug-in to view this demonstration. (The applet may take up to 1 minute to load.)
The Solartwin solar panel system is simply a 2.8 square metre (approx) solar water heating collector panel on the roof, plus an "intelligent" solar energy powered water pump and two strong, thin, flexible supply pipes.

From the outside, Solartwin looks like most conventional solar water heating panels: a black sheet of metal in a double glazed box. Like all solar water heaters, this absorbs solar energy and heats up.

Because the Solartwin solar panel system is freeze-tolerant, it now collects the solar energy heat from using ordinary water, rather than using antifreeze. Also, because it uses a photovoltaic (solar electric) panel to power the pump, the Solartwin solar panels system is zero carbon: totally solar.

The solar pump responds intelligently to reduced levels of sunlight by pumping slower. As a result, unlike most solar panel systems, it provides roughly the same water temperature increase all the time, even if is sunny or overcast.

It delivers your solar hot water directly into your existing hot water storage cylinder along simple to install, flexible pipes. The solar hot water floats on top of the colder water in the storage cylinder, waiting to leave first, when you want to use it.

Installing Solartwin is simple and relatively cheap. As you can see it requires minimal plumbing.
Solartwin installation also requires fewer technical skills. Only a single full skill is required in the installer: the skill of working on a roof. The need for plumbing skills is minimised although not completely removed since two simple "tee" connections need to be made to your existing plumbing. The remainder of the plumbing involves simply laying and clipping flexible pipes. No mains electrical skills are needed whatsoever because the system runs on low voltage solar electricity.
Solartwin solar-heating means minimum disruption when installing solar-panels, and then is as equally easy to un-install and load in a van when moving house.