Solar water heating systems = Solar photovoltaics panels + solar energy. Solar thermal: PV solar power & solar hot water.
Reviews & Testimonials – Solartwin Solar Water Heating
Solartwin solar panels testimonials. Asked for a "one word description or phrase", of their zero carbon solar water heating system, Solartwin solar panels users usually say one of these:
"We are still enjoying watching our meter go backwards as Southern Electric have yet to fit a meter for  FIT (feed in tariff).
As to your comment on sales reps: The other company we contacted sent a rep who spent 3 hours in the house and gave us a quote of £24,000 which I can reduce to £19,000 if and only if you sign right now.  He didn't get our business and you did, as your company simply came over as more honest and less pressuring.  And of course you beat them on price, which we gleefully told the follow up sales call.
Hot water is a huge success. The gas is now only set to come on for 30 mins each morning in case it's been particularly cold, but I regularly now have my morning shower completely solar heated, which is fab.
All the work much appreciated.   Our next project is a garden room with roof big enough for more PV, which will drive the underfloor electric heating.   Expect us to be back in contact in a year or so for more panels."
Solartwin PV & Solar Hot Water user, Mr Adam Edwards, Hertfordshire
"My Solartwin system was installed recently and has been providing plenty of hot water without any input from the immersion heater or gas central heating. The late spell of hot weather confirms the survey predictions regarding heat collection. I have enjoyed showering in 'sunshine' and relish the prospect of my reduced fuel bill. My advanced investment in this luxury seems to be psychologically blocked. This is very convenient. The installation was carried out cleanly and efficiently. I have no reservations in recommending it. I am presently boring my neighbours and family by frequently extolling it's virtues. This must be part of the same psychological effect. "
Solar panels user, Mr Bryon Bird, Surrey
"My family has been the beneficiaries of Solartwin hot water for the past three years and we cannot speak highly enough about the company and its equipment. Even in the middle of the winter the pump gets triggered and our tank fills with warm water. Living in an isolated spot with bottled gas as our energy source the cost of heating the water was astronomical and a year round expense. Now however we turn off the gas for three to four months in the summer and enjoy enough hot water for all our washing needs. We have never needed any service or help since installation and recommend Solartwin both for its technology and helpful and friendly service"
Solartwin solar water heating system customer, Mr A Coker, Oxfordshire
"We were impressed by the simplicity of the design and operation."
Zero carbon solar panel user, J. Stonell, Castle Douglas
"…I am besotted with my panels. I keep running upstairs to look at the thermometer!! So you can tell future clients an additional benefit… is that they will keep members of the household fit!!"
Solartwin solar panel user, A. M, Belfast
"23 December 2004 – My Solartwin solar panel was happily whirling away in the bright winter sunshine yesterday morning at around 11 o'clock."
Solar water heating user, Dr MacG, Perth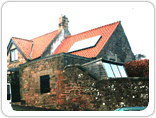 "…you could tell they were very experienced in your product. It was a pleasure to have workmen in our house who were very polite and efficient. I would like to thank you for all the help you have given to us and for the installers whom we could not fault. If the system proves to be as good as your service and the installers, then we have a brilliant product that is going to last for a very long time. If I can recommend anyone to have a solar system it will most certainly be Solartwin."
Solar hot water user, P. T. Clevedon
I purchased their DIY kit, which comes with very detailed and comprehensive instructions, and the materials supplied are of high quality. When sourcing some extra insulation – needed because my panel is not directly on a roof – I mentioned the simplicity of the system, and was told by someone 'with 30 years experience in the plumbing trade' that 'it  would never work!' Well, he was wrong! – It works a treat!
Don Johnson, DIY Solar Water Heating User, Visit Don's photo-diary here.

Back to the top